David Gryn, founder of Daata Editions
Phillips and Daata Editions have partnered to commission artists Jeremy Couillard and Rachel Rossin to produce two new digital artworks that will premiere in dedicated exhibitions at Phillips New York and will be offered for sale through Daata Editions online platform. Phillips' Director of Digital Strategy, Megan Newcome, sat down with David Gryn, founder of Daata, to talk about the genesis of the partnership and the state of the digital art market.
Megan Newcome: Let's start with what Daata Editions is and how you decided to build a platform to sell digital art?
David Gryn: Daata Editions is an online commissioning and selling platform for contemporary artists working with digital media. Daata came about after more than 15 years working with moving image, both analogue and digital, often in the context of the cinema. I was the Film & Sound Curator for Art Basel Miami Beach from 2011-2017, chiefly encouraging galleries to bring moving image to the fair. I realized something had to be done to galvanise the market place, which has been somewhat reluctant to embrace the digital medium.
But what was most important to me was being able to empower artists and encourage others (galleries, institutes, art fairs) that this market exists – so we built a platform to show, sell and promote artists' digital output. Daata is the brainchild of myself and Anita Zabludowicz, a leading art collector and philanthropist. We had known each other for over 20 years, and I had often sought Anita's reaction and feedback before showing artists' works at art fairs as she is one of the most committed, interested and supportive people in this realm.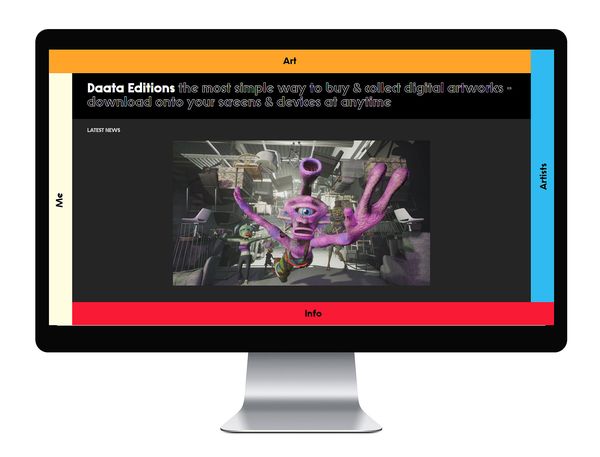 MN: One of the challenges historically for this medium has been that collectors couldn't easily find or acquire digital artworks. You've tried to make collecting digital art as easy as buying and downloading music.
DG: When we were planning Daata I chose the company Studio Scasascia to collaborate with on the website. They had designed the website for the record store Sounds of the Universe, which was a place I was happy to go into and buy music – and equally happy to listen and download from their website. They also had been designers on Damien Hirst's Other Criteria e-commerce platform, so I knew they understood what I wanted in principal. We have continued to work closely together for over 5 years.
MN: You commission artists to make works to sell on Daata – and you pay the artists up front to create. So, it's not based on how many editions of the works sell. It's a unique approach and you often say it's "a model" but not necessarily "the model." What do you mean by that?
DG: When it comes to dot com start-ups and artworld digital solutions, everyone wants to have "the model," as they want to be the dominant player. Our aim is always to be "a model" and hopefully one of many. We can't be every solution for digital art platforms. We have a niche, finite and bespoke operating process. To be successful in the art market, as in most fields, you need healthy competition, so we are excited for other new similar style models. We commission artists, and show and sell their work on the internet, and believe it is the new normal. Our costs are not in bricks and mortar and intensive staffing, but mostly in paying artists.
We commission artists, and show and sell their work on the internet, and believe it is the new normal.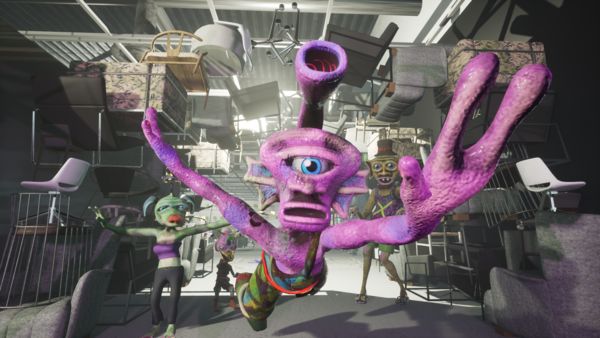 Jeremy Couillard HOTR Home Furnishing (still)
MN: And how have collectors found their way to the platform?
DG: We connect with collectors through our own networks, worldwide art fairs and institutional exhibitions, social media and word of mouth, as well as through the reputational and trust of the artists and venues we work with.
MN: The diversity of the artists offered on Daata Editions is really exciting. On one level, it's a who's who of young, emerging artists, but there's also an impressive number of artists who are already established in the contemporary art world. How do you decide who to commission for Daata?
DG: The artists we commission come through our own knowledge and research, trusted word of mouth suggestions from other artists, curators, gallerists and collectors. It is not a selection of just who we think are great, but from a wider consensus. We are not always looking for discoveries, but for artists we genuinely feel we can work with and make something happen. Often the relationship is based on chemistries between us and the artist and a genuine trust, which can happen immediately or over time.
Alongside Jeremy Couillard's exhibition at Phillips next week we'll also be showing Dream Catcher, a group of artists from Daata Editions which really is a good example of the array of young and emerging artists to the more established names on the platform: Phillip Birch, Jacky Connolly, Keren Cytter, Ollie Dook, Ed Fornieles, Takeshi Murata, Rashaad Newsome, Letta Shtohryn, Saya Woolfalk, and Lu Yang.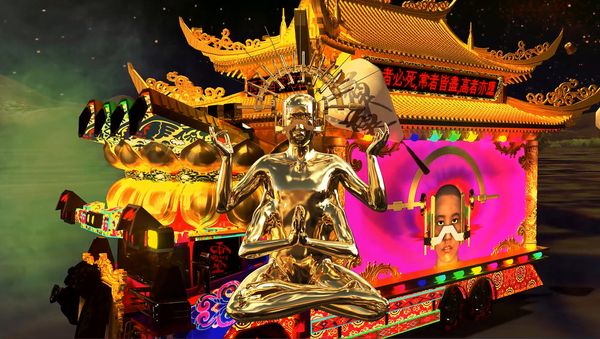 Lu Yang LuYang Interactive Hearse (still)
MN: Digital art seems perpetually on the brink of being "the next big thing" from a market perspective. But you've been championing this medium for over 20 years as a curator and now an entrepreneur. How has the art world's perception of digital art changed in that time? Is it still on the brink, or have you seen more meaningful assimilation into the mainstream art world?
DG: Over 20 years, I have thought that the art world market is on the cusp. Now I still feel that way, but the major difference is that now we have most people using digital media as their natural language. Most artists, as indeed most of us, use digital media in every aspect of our life and work. The quality and cost of technology has made it possible for great works to be made and displayed at nominal cost, and there are ever more platforms that can show the work. Ultimately, once we all believe in its value, we all find a way to connect.
MN: You and I met in London in 2016, when the Whitechapel Gallery opened Electronic Superhighway (2016-1966). Almost from the minute we met, we started planning how we might partner together on a commissioning project. Although it might seem like an odd pairing, how does partnering with an auction house fit with your mission?
DG: I knew instinctively when we met that we both had the shared belief in empowerment and the support and nurture of the artist and the medium, which has been my benchmark since day one in my career. Phillips' support of various digital art projects, while it's good marketing, also genuinely had philanthropy at its core. We both understand that to improve the value chain of the digital artwork, we need an expanded audience to get on board. And who better to communicate with than the large art collecting audience at Phillips?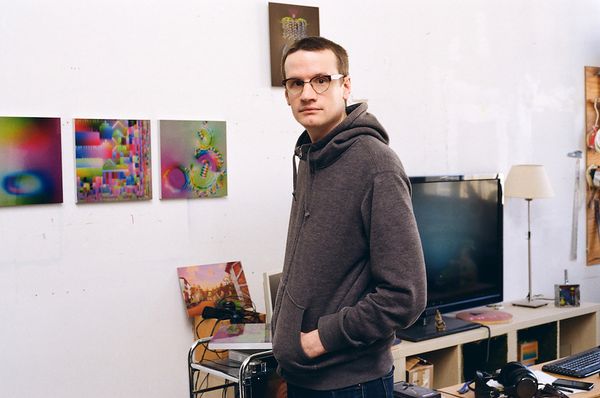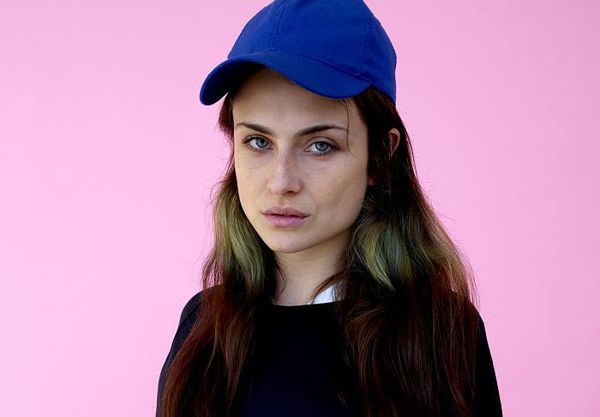 From top: Jeremy Couillard, Photo credit: Atisha Paulson. Rachel Rossin, Photo credit: Francois Dischinger
MN: Jeremy Couillard and Rachel Rossin are the first recipients of the Phillips x Daata Artist Commission. Can you tell us what the process was for choosing these two artists to represent the partnership?
DG: In the case of Jeremy, I was initially introduced to his work by Patton Hindle and RJ Supa, who represented him at their lower east side gallery, yours mine & ours. I started working with him and it has been a delight, as he is simply a fantastic artist and an ultimate deliverer. His work has both digital and art making craft and aesthetics, along with humor, intelligence and a distinctive flavor.
Phillips visited Jeremy Couillard in his studio to talk about his commissioned work HOTR Home Furnishing
Rachel Rossin and I met at Art Basel Miami Beach several years ago, and we had been plotting and planning how to collaborate ever since. Both artists coincidentally have done VR exhibitions at the Zabludowicz Collection in London. In tandem with you, we developed a short list of artists and shared them with a group of contemporary art specialists at Phillips from which we selected two recipients.
MN: What I find really interesting about both Jeremy and Rachel is that they both studied painting formally and are still, technically, painters. They are also both self-taught programmers and use gaming engines, VR and other emerging technologies to transform the convention of painting into immersive, 21st century digital experiences. How do these artists represent the next generation of contemporary art-making?
DG: What excites me is that they both see no hierarchy in art technique or exhibition. The digital is equal to any other art medium, and they both create with the logic and soul of an artist and the mind of an intrepid engineer or scientist.
MN: Daata Editions mainly offers video works, but you've begun selling other non-object based art like sound works and have commissioned performance and dance. What other developments are on the horizon for Daata Editions?
DG: We are soon to launch a subscription platform on Daata where playlists, groupings of works and the entire catalogue will be able to be accessed and played in hotels, clubs, businesses, museums, galleries and homes. We are commissioning more artists and are truly excited by what is in store and how new audiences can interact and be involved. The Daata Editions model is based on selling works and making revenue to have more budget to commission more new works. My favorite artwork is that which is yet to be made and with Daata – this is now a perpetual dream come true.
New York Viewings
Jeremy Couillard 25 – 30 April
Rachel Rossin 8 – 12 June
450 Park Avenue, New York